Welcome to the world of Bangladesh stamps. Bangladesh issues stamps of such a variation in color, design and so in shape, that attract everyone.

Bangladesh Post Office has issued more than one thousand stamps and over 30

souvenir sheets till the end of 2002.


---
Gallery 1
---

First Stamp (set of 8 stamps) of Bangladesh
Date of issue: 29 July,1971
Deno. 10p, 20p, 50p, Re.1, Re.2, Re.3, Re.5, Re.10.
---

Martyrs of Language Movement-21 Feb,1952
First Stamp after Liberation


Date of issue:21 Feb,1972


Deno. 20p
---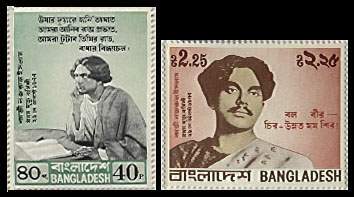 National Poet- Quazi Nazrul Isiam
1st death anniversary
Date of issue:29 Aug 1976
Deno. 40p, tk 2.25
---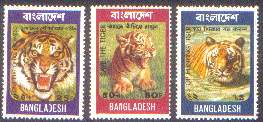 Save the Tiger-national animal of Bangladesh
Date of issue:4 Nov 1974
Deno. 25p, 50p, tk. 2
---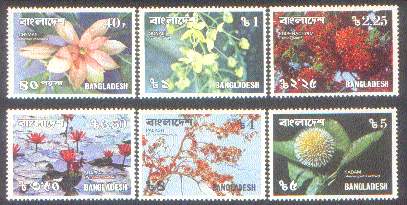 Flowers of Bangladesh-(first series)
Date of issue:29 Apr 1978
Deno. 40p, tk 1, tk 2.25, tk 3.50, tk 4, tk 5
---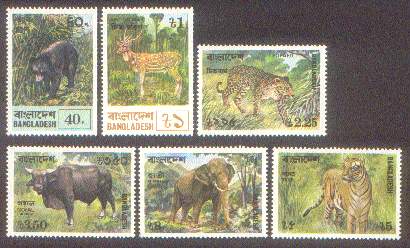 Animals of Bangladesh
Date of issue:9 Nov 1977
Deno. 40p, tk 1, tk 2.25, tk 3.50, tk 4, tk 5

---
Fruits of Bangladesh
Date of issue:16 July 1990
Deno. tk 1, tk 2, tk 3, tk 4, tk 5, tk 10

---

Birds of Bangladesh -(first series). The first stamp depicts the bird DOEL - the National Bird of Bangladesh
Date of issue:17 Aug 1983
Deno. 50p, tk 2.25, tk 3.75, tk 5

---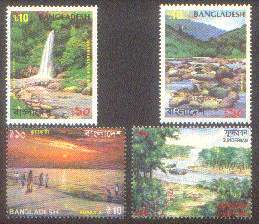 Natural Beauty of Bangladesh
Date of issue:30 Oct 1993
Deno. tk 10,tk 10,tk 10, tk 10

---

Archaeological Relics of Bangladesh from Mainamoti
Date of issue:26 Nov 1991
Deno. tk 4*5 stamps- one strip

---

Fishes of Bangladesh-(first series)
Date of issue:31 Oct 1983
Deno. 50p, tk 2.25, tk 3.75, tk 5

---

Paintings of Bangladesh -(first series)
Date of issue:6 Apr 1986
Deno. tk 1, tk 5, tk 10

---